South Korean manufacturer Samsung is set to announce its flagship Galaxy S20 series at an event on February 11. With leaks on the phones coming by the day, we already know a lot about their designs.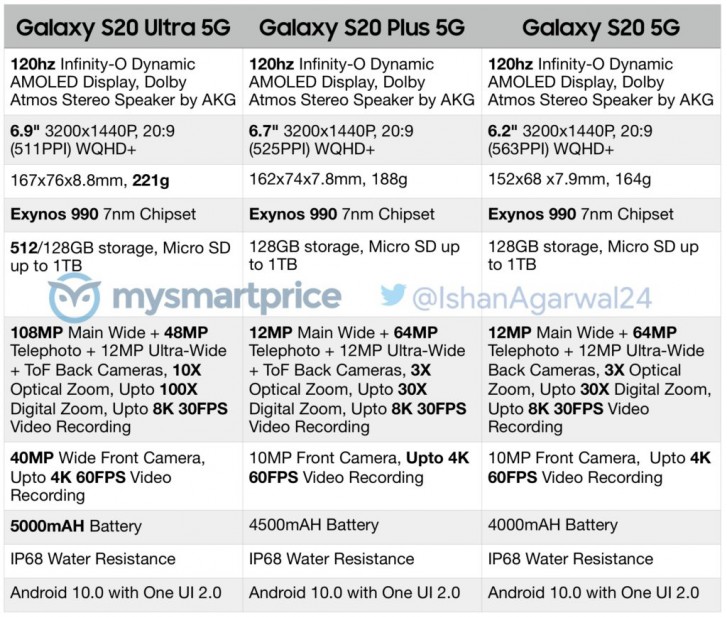 But now, we have got a leak of the full specification sheet for the Galaxy S20, S20 Plus and S20 Ultra. It seems the trio of phones will support 5G and will run the Exynos 990 chipset. We are likely to get this variant of the device in the UAE, with units in the United States expected to come equipped with Qualcomm's Snapdragon 865.
No major sacrifices
While there are distinct differences between each of the three smartphones, the core offering remains the same. All three boast a 120Hz Infinity-O Dynamic AMOLED display, Dolby Atmos powered stereo speakers tuned by AKG and IP68 water and dust resistance.
They also come with the same processing power, that is the Exynos 990 with a base 128GB storage configuration. The Galaxy S20 Ultra has an additional 512GB variant but if you need more storage, there is support for micro-SD expansion up to 1TB on any model. The leak does not detail RAM specification but further does give us an idea of the phone's software, which will be Android 10.0 draped with One UI 2.0.
Galaxy S20 Ultra is a beast
The Galaxy S20 Ultra stands out among the trio for a number of reasons. Firstly, that 6.9-inch panel which sounds huge. Who remembers 7-inch tablets back in the day? Well, this is how far we have come now. At 221g and 8.8mm, the smartphone will have a fairly robust body to accommodate the mammoth 5,000mAh battery.
This will definitely complement its camera setup. The selfie camera will have a wide field of view, with a 40MP resolution and will be capable of 4K 60fps video recording just like the current Apple iPhone 11 series. The main setup is made of a quad-camera configuration, with the 108MP resolution, 10x optical zoom and 100x digital zoom features standing out. It will also support 8K 30 fps video recording, which would be a first on any smartphone.
Galaxy S20 and S20 Plus are similar
Aside from the main 6.2-inch and 6.7-inch display sizes respectively, both the Galaxy S20 and S20 Plus are fairly identical. The S20 comes with a triple-camera setup, with 3x optical zoom and 30x digital zoom. The S20 Plus just adds an additional ToF camera to the fray, which we presume will help with portrait photos. Both phones will also be able to capture 8K 30fps video, just like the S20 Ultra.
On the front, you will find 10MP selfie cameras, which do not seem to be the same wide variants as on the S20 Ultra. But nonetheless, they will be able to record videos in 4K 60fps. Due to the phone's sizes, the S20 Plus will be able to equip a larger 4,500mAh battery over the S20's 4,000mAh one. Interestingly, the specification list does not outline if Samsung's flagships will support battery recharging technology faster than its current 25W variant.