There is no denying that Samsung's mobile division is going through a bumpy period right now. Smartphone sales are not looking good and trading stocks are going south. The company's mobile division CEO DongJin Koh has gone as far as call this a crisis mode. And unsurprisingly, the company wants its upcoming Galaxy S10 to be a major breakthrough in the market.
Highlights (TLDR)
A punch-hole bezel-less 'infinity' displays on all the phones and a higher resolution 1,440 x 3,040 screen with a 19:9 aspect ratio.
Either running on the Exynos 9820 or Snapdragon 855 processor, up to 12GB of RAM, possible 1TB storage variant and improved One UI software.
In-screen fingerprint scanning, 3D facial recognition and removal of iris recognition
Dual or triple camera set-up, improved AI scene recognition and dual front-facing cameras
Official announcement prior to MWC 2019 at Samsung Unpacked on February 20 and it may be in stores starting March 8
Design and build
While we see competitors embrace the notch on smartphone displays, Samsung's silence on the trend indicated the company might skip it altogether. But a recent announcement has made it clear on what the company's future strategy might be.
The U-Infinity, V-Infinity and O-Infinity displays are all probable on the Samsung Galaxy S10. Recent leaks, though, have suggested the O-Infinity to be the finalised design. With this, a portion of the display will remain punched out to accommodate the front cameras.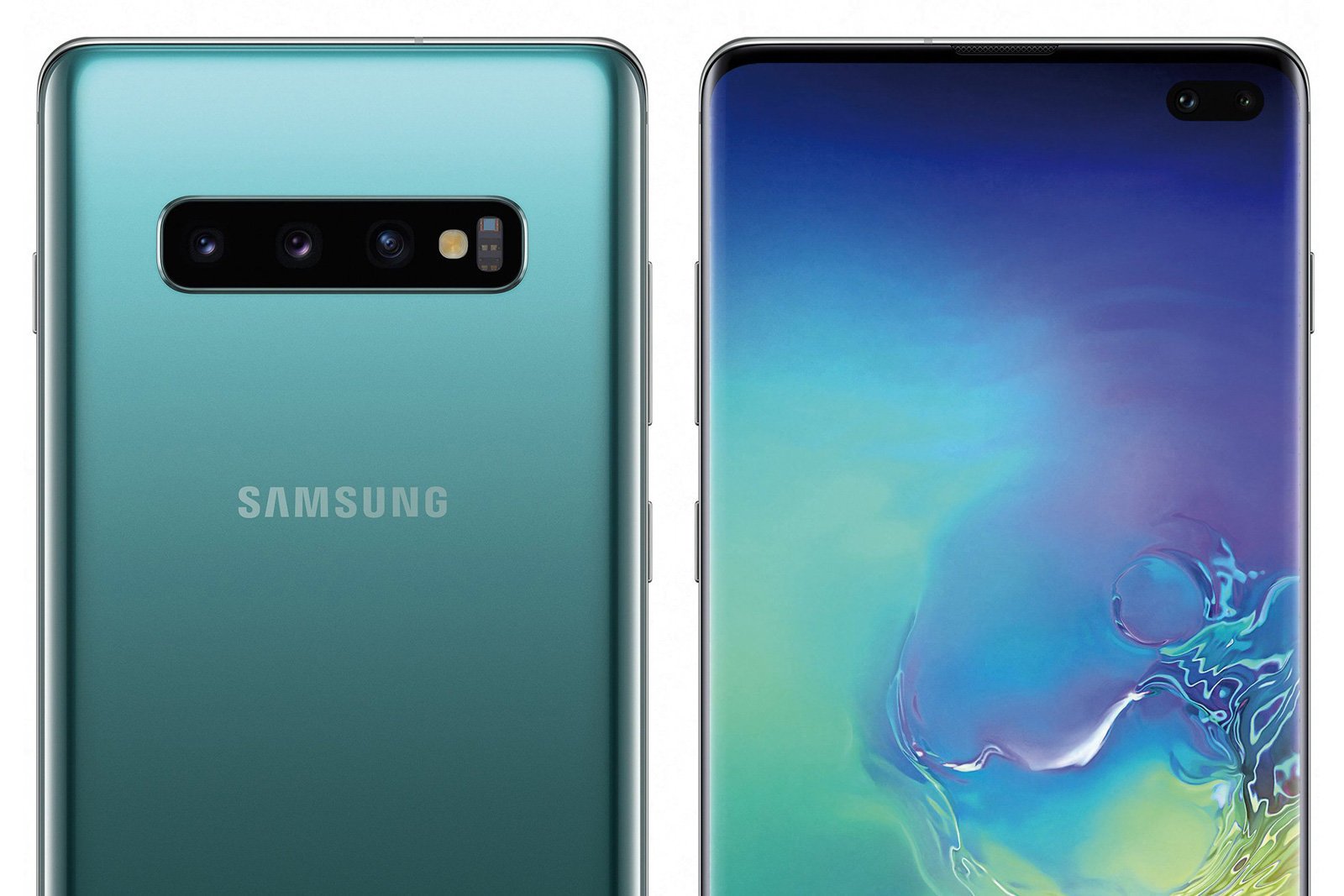 From a visual standpoint, the design is not the most appealing because the camera may get in the way of certain tasks on screen. But as we've had more and more smartphones adopt this design, it is not all that bad if the software is optimized properly.
A reported protective film for the display of Samsung's new flagships has leaked showing no cut-out and hinting at an all-screen design similar to the A8s smartphone.
It is easy to get confused with so many leaks every day but the consensus seems to point at these two designs for the screen. And below is a real-leak of the phone showing the dual front camera setup.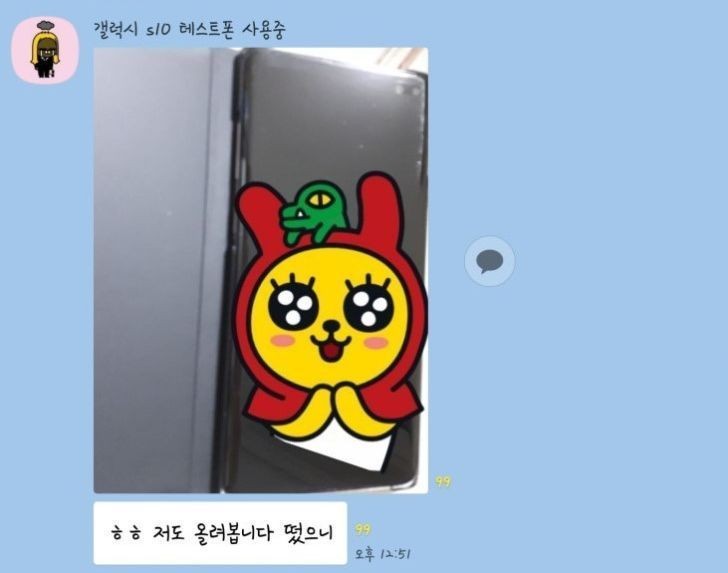 As for size, we can expect up to three different variants of the Galaxy S10: A Galaxy S10E version with a 5.8-inch flat display, a Galaxy S10 with a 6.1-inch curved display and a Galaxy S10+ with a 6.4-inch curved display. With the rumoured increases in screen size, the phones will be taller boasting a 19:9 aspect ratio and a more dense 1,440 x 3,040 screen resolution to maintain sharpness.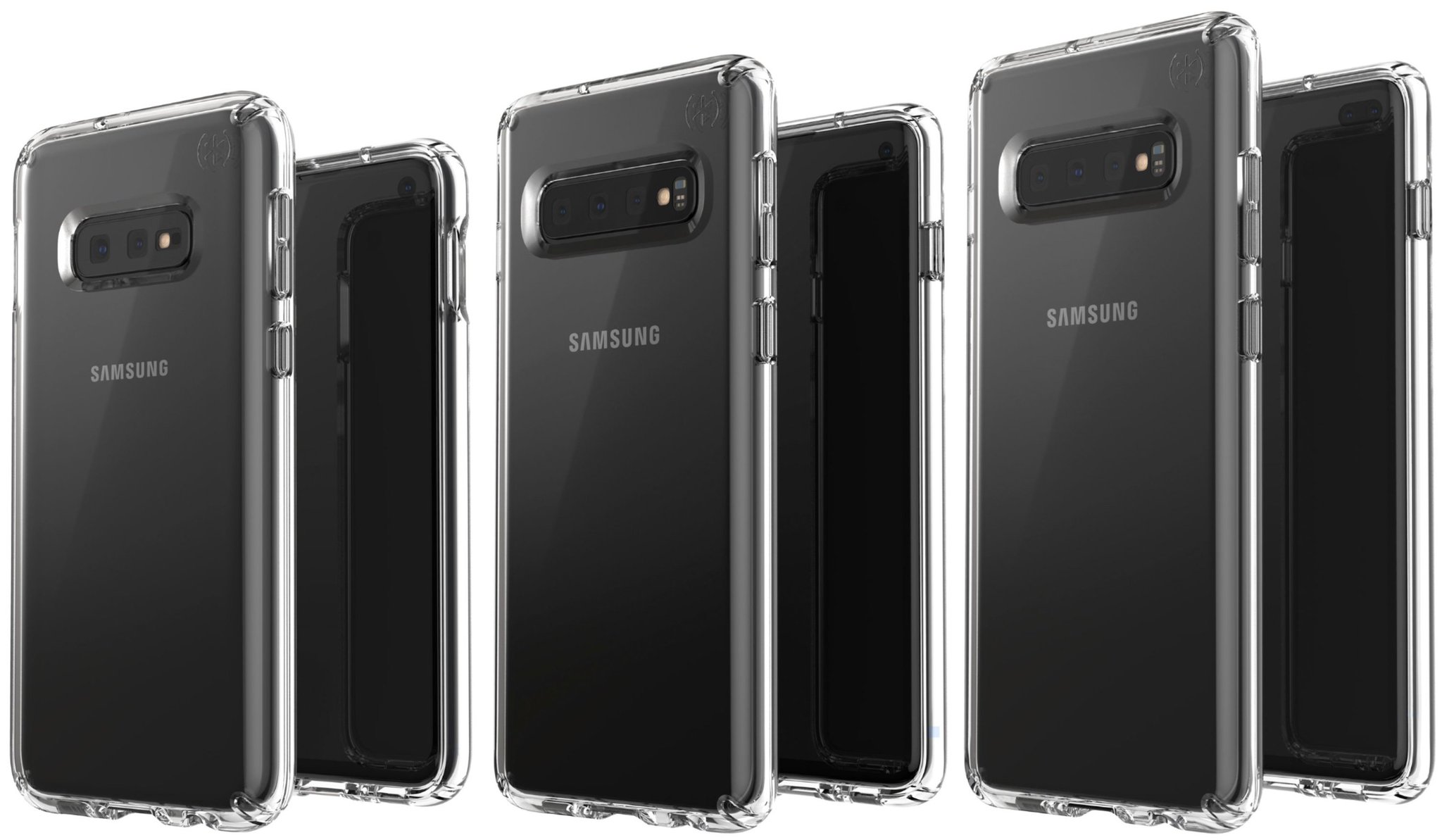 Aside from the all metal and glass build, we hope to see the more refined Gorilla Glass 6 protection on board. And things such as a 3.5mm headphone jack and buttons to control volume, power and Bixby are all a given. What might be a bit different is the variety of colours the Galaxy S10 offers. The usual black and grey alongside finishes of blue, green, red and yellow are all possible. But some of these may be region-specific.
Processing power and software
Like in previous years, US variants of the Galaxy S10 will most probably be powered by Qualcomm's Snapdragon 855 processor whereas units elsewhere will come with Samsung's Exynos 9820. This difference, although not major, will affect how each regional device functions.
Samsung's Exynos 9820 is an octa-core CPU manufactured on an 8nm process, different to the current Exynos 9810, which is based on a 10nm process. This brings improvements in overall performance and also introduces an integrated NPU (neural processing unit) to enhance AI-related tasks.
On the contrary, the Snapdragon 855 is an octa-core CPU based on a 7nm production process. It boasts the world's first computer vision image signal processor and support for ultrasonic fingerprint sensors. Qualcomm claims the chipset beats any other 7nm processor on power, taking indirect shots at Apple's A12 Bionic and Huawei's Kirin 980.
One of the biggest differences between the Snapdragon and Exynos is cellular speed. While both processors are capable of reaching speeds up to 2Gbps, official support for 5G networks only comes with Snapdragon's offering.
As for RAM, it is a case of power consumption reduction at this point. It is reported that the RAM on board the Galaxy S10 may be 30 per cent more efficient. There are reports of the phone potentially having 12GB RAM but that seems a bit overkill to us. If anything, 8GB RAM seems more likely and even that may be limited to the Galaxy S10 Plus. Talks of a 1TB storage variant are also in the air although we think we will likely see the base storage bumped up to 128GB with the two times faster UFS3.0 type storage.
Recently, Samsung has started rolling out its new One UI software to current flagships and the same will most likely come with the Galaxy S10. We can expect this software on top of Android 9.0 Pie with improved gesture navigation controls.
Biometrics
Like Huawei's Mate 20 Pro and the OnePlus 6T to name a few, Samsung is likely to opt for in-screen fingerprint scanning on its Galaxy S10. But instead of using optical scanners like its competition, Samsung wants to use ultrasonic ones. Rumours suggested that the technology was not available in time for the Galaxy Note 9 but with official support from Qualcomm for the technology, we may finally see it.
An ultrasonic scanner would mean 3D mapping of your fingerprint as opposed to existing optical scanners that are capable of 2D mapping. And this difference alone could make the Galaxy S10 scanner the best on the market. Although, the ultrasonic scanners may come at an added cost.
For this reason, we may see Samsung stick to optical scanners for the basic 5.8-inch version of the Galaxy S10 with the bigger 6.1-inch and 6.4-inch variants rocking ultrasonic scanners. The only downside to this is the requirement to have an un-obscured reading area like seen in the leak video which isn't the prettiest sight.
While the in-screen scanner will remain the primary method to unlock the phone, Samsung is also working on 3D facial recognition similar to Apple's and Huawei's Face ID. With this, Samsung's iris scanner may be scrapped. Or it may work in conjunction with the new 3D face unlock.
Camera
Sticking to the rumour of Samsung releasing three flagships this year, each could have different optics. The most basic Galaxy S10 could rock a single-lens camera while the highest end Galaxy S10 Plus, a triple-lens camera. A triple-lens camera could include a 12MP wide-angle lens, a 16MP super wide-angle lens and a 13MP telephoto lens.
According to a recent report, the 12MP lens will carry over the f/1.5-f/2.4 aperture lens from last year. The 16MP lens will have a 123-degree view with an f/1.9 lens whereas the 13MP lens will come with an f/2.4 aperture. And do not be surprised to see a dedicated night mode option for better pictures in poor lighting.
On the front, it looks like we may be seeing up to two cameras. While exact specifications of these are unclear, it will be unique to see in combination with the true bezel-less display. The added lens though may improve front facing portrait mode or play a role in 3D face scanning. But regardless, five cameras on a smartphone is pushing it in 2018 but might become the trend in 2019.
Release and pricing
Major takeaways:
The tenth anniversary Galaxy S-series smartphone looks set to be unveiled in early 2019 in San Francisco. Like previous years, an Unpacked event is scheduled for February 20, just a week before MWC 2019. According to Italian sources, the phone will be available in store starting March 8.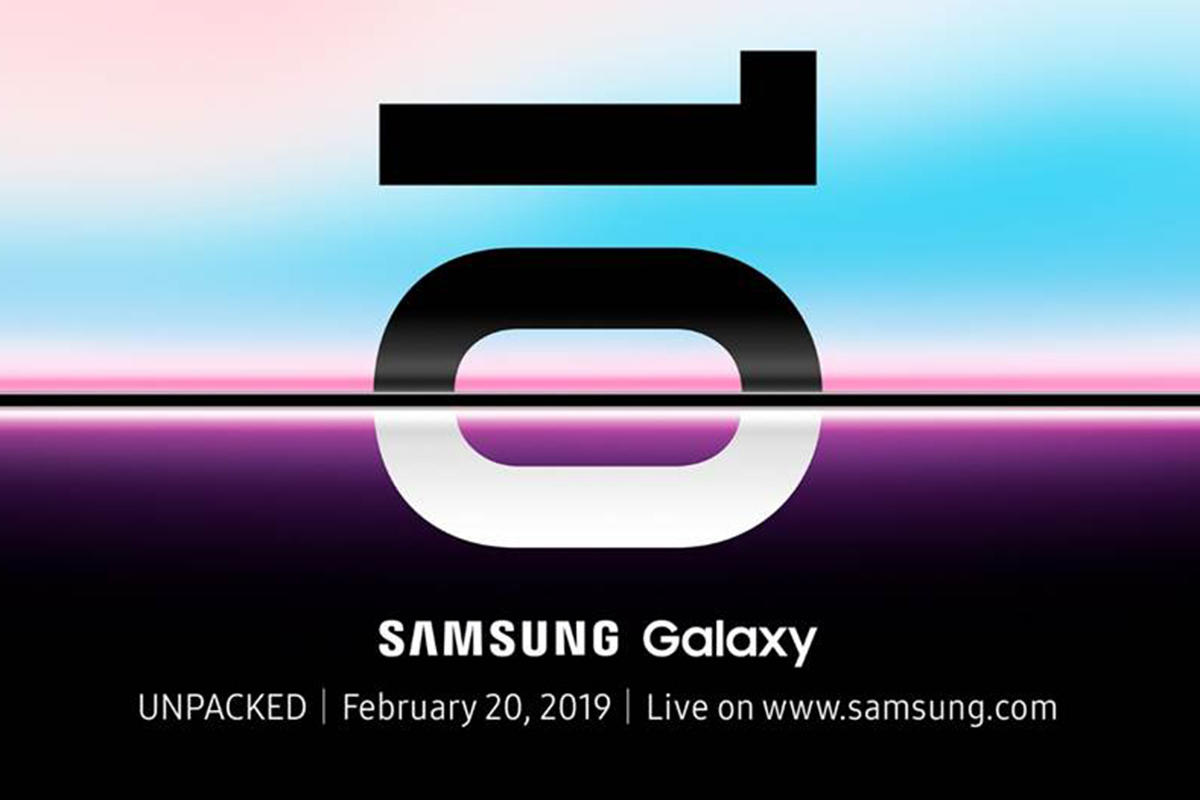 As for the phone's pricing, we have recently had a huge leak from Europe. The rumoured Galaxy S10E will come in at €779 (Dh3,249) for the 128GB variant while the Galaxy S10 will be priced starting €929 (Dh3,874) for the 6GB vairant. Lastly, the Galaxy S10+ will start from €1,049 (Dh4,375) and may range up to €1,600 (Dh6,673). If these prices turn out to be real deal, we could be looking at some very expensive flagship smartphones from Samsung.