Two weeks ago, NikonRumours.com reported that the company will use CES 2016 to unleash three new extreme/action cameras with different positioning/targeting and a wide range of accessories. There have also been a fair amount of rumours about the D5.
Earlier today, Nikon New Zealand, jumped the gun and prematurely announced the Nikon D5 on their Facebook page.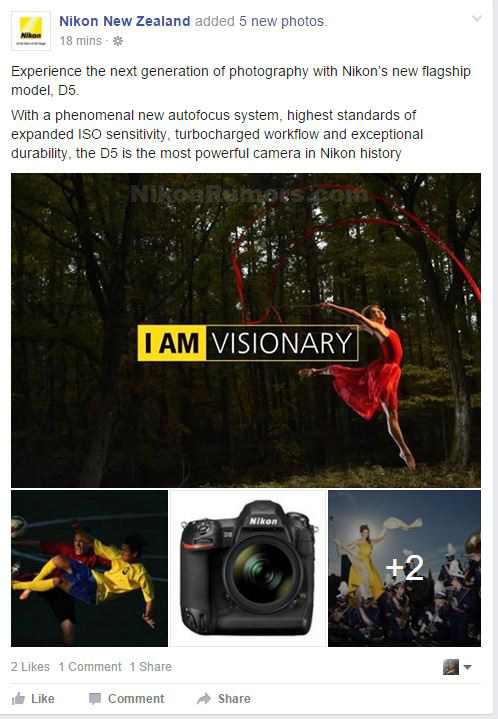 Nobuyoshi Gokyu, the SVP and General Manager of Imaging Business Unit at Nikon Corporation opened the show by saying, "Many of you have been expecting the launch of the Nikon D5."
Yes we have. And lo and behold – a few short minutes later:
The Nikon D5 Launched
Surprise, surprise. Bet you didn't see this one coming. The D5 features a new 153-point autofocus. It also rocks a 20.3-megapixel full-frame sensor, a respectable upgrade from the 16-MP D4.
Among the many flagship features packed into the D5, it also features in-camera, 4K time-lapse shooting. Full specs to follow.
The Nikon D500 Launched
The Nikon D500 makes an entrance. The camera features the latest innovations in connectivity. The first camera to feature the new Nikon SnapBridge offerings.
The Nikon KeyMission 360
Watch out GoPro, first Ezviz and now Nikon. The KeyMission 360 is a sturdy looking square full-360 action camera that's Shockproof and waterproof (within reason). The camera sees in a sphere and in all directions.
For glorious high-res images of the new KeyMission 360, click or tap here.
The Nikon KeyMission 360 is a rugged camera capable of recording true 360-degree video in 4K UHD. The action cam features an image sensor and lens on opposite sides of the device, with images from each combining to create a single immersive, ultra-high-definition 360-degree video and still image.
The camera is designed to be easy to use and withstand the elements. Waterproof (approx. 100 ft./30m), and ready to stand up to dust, shock and low temperatures, the KeyMission 360 also features electronic Vibration Reduction (VR), enabled through applications during playback, that reduces the effects of camera shake to help produce sharp and crisp video quality.