The Eve V is the first ever crowd-designed computer by more than 1,000 minds of the Eve community. After the successful launch of the Eve T1 tablet, Eve Tech Finland was still unsatisfied. It decided to establish a community where people collaborated to create the Eve V. The project was even code-named Pyramid Flipper. The device is even being touted as a direct competitor of Microsoft's Surface Pro 4.
What makes Eve V so special?
Considering it was co-created by so many people, it's natural to assume there were a lot of ideas. The result? An excellent piece of two-in-one hardware at an incredible price.
For starters, it comes with a 3.6GHz seventh-generation Intel chipset with up to 16GB of RAM. The processors claim to be extremely energy efficient and 100 per cent silent without a bulky cooling system. There's also a reported 12 hours of battery life.
The device is features an eye-catching IGZO display. The 2,736×1,824 LCD is also anti- reflective to ensure top notch viewing no matter how sunny it is. Eve V is bonded with Gorilla Glass for safety and to keep those pesky scratches away.
This being a two-in-one device, the keyboard is detachable and wireless. Audio is pumped by quad speakers and an amplifier dedicated to the headphone jack. Two USB 3.0 ports, one USB Type-C port and a Thunderbolt 3 port complete the package.
External help
Microsoft and Intel have invested in the Eve V by pooling their resources. Microsoft provided Windows 10 and its hero features to the computer, while Intel helped the device achieve optimal thermal performance and added the Thunderbolt 3 with external graphics support.
How it compares to the competition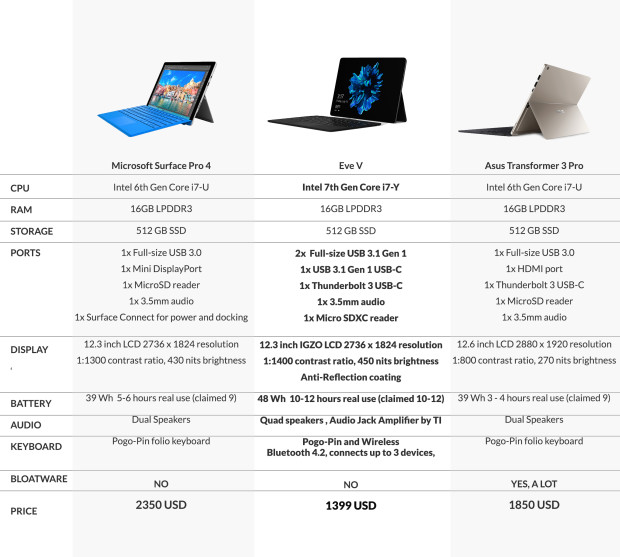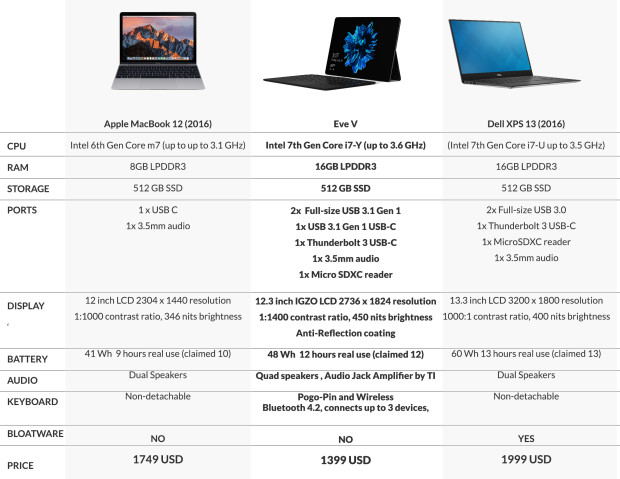 If you need to get your hands on one, head over to the Indiegogo page and reserve your unit. There are 24 days to go.