There are some legit VR-ready laptops and desktops already available in the market. MSI's latest offering is a new range of Nvidia 10-series GPU-equipped behemoths. With the launch of Nvidia's Pascal-based graphic cards, MSI completely overhauled its entire gaming line-up, pumping its laptops with the new GTX 1080, 1070 and 1060 GPUs, improved 120Hz displays and sleeker designs. We've got the GT73VR Titan with us to take for a spin, and from the first look of things, it looks like we're in for some ride.
The 17.3-inch Titan. It's huge. It's beautiful. And it's packed to the hilt with shiny awesomeness.

If gamers remember the old MSI Dominator, they'll feel a little familiar with this monster. However, it should be noted that this is a much-improved beast. There isn't an optical drive, it's got a reshaped chassis and extra touches to meet the needs of the new GPUs. Essentially, they reworked the insides to make room for the insane GeForce GTX 1070 SLI. This mad spec card isn't some rehashed compressed version of its desktop equivalent. It is the desktop version. No scaling down whatsoever has been required. There's also a version with the GTX 1080 for more eye-melting awesomeness.
The gaming laptop also features Intel's new sixth generation Skylake i7 processors. The 17.3-inch display is measured at 1,920 x 1,080 and has a healthy refresh rate of 120Hz, which is still unique enough to offer rewarding gaming experiences. It comes outfitted with a 1TB SATA hard drive, a 256GB Super Raid 4 SSD and 32GB DDR4 RAM, a SteelSeries keyboard with RGB LED backlighting and sound from a Dynaudio system.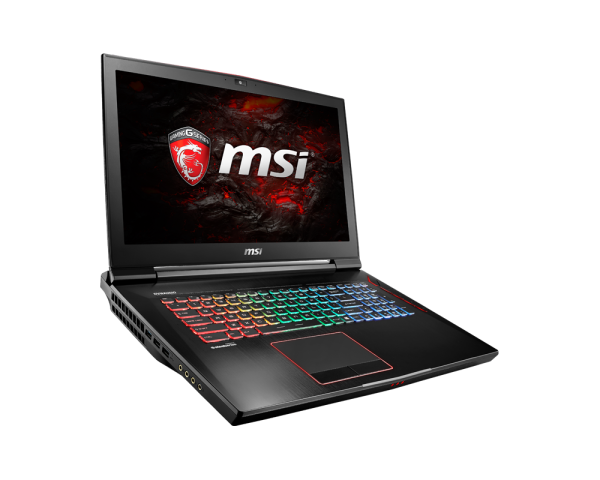 Industry-standard features include USB 3.1 Type-C 3 with support for Thunderbolt, USB 3.0, HDMI 2.0 and Mini DisplayPort, an SD card reader, audio jacks for headphones and microphone and S/PDIF digital audio for 7.1 systems.
Stay tuned for a detailed review on this mean machine once it's had its way with us.