It seems like the iPad has finally outgrown iOS. At this year's WWDC, Apple previewed iPadOS, a software built on the same foundations as iOS but tailored to a large display experience.
New home screen and 'Split View'
With a new layout, you see more of your applications on each page. Quick access to widgets can also be turned on for information on headlines, events and your calendar at a glance. Essentially, the new design uses the available screen on your iPad to its full potential.
To further this idea, the iPad's 'Split View' sees an update. Users can now work with multiple files and documents from the same app simultaneously. They can also switch between multiple applications using 'Slide Over'. An example would be composing an email while viewing another one side by side or access to multiple applications with just a swipe. 'App Exposé' gets you a quick view of just the open windows to access an application with a tap.
Powerful 'Files' application
With iCloud Drive support, folder sharing is made easier with access to anyone. But more importantly, iPadOS supports external drives, allowing you to plug in USB drives, SD cards or log into an SMB file server from the 'Files' application.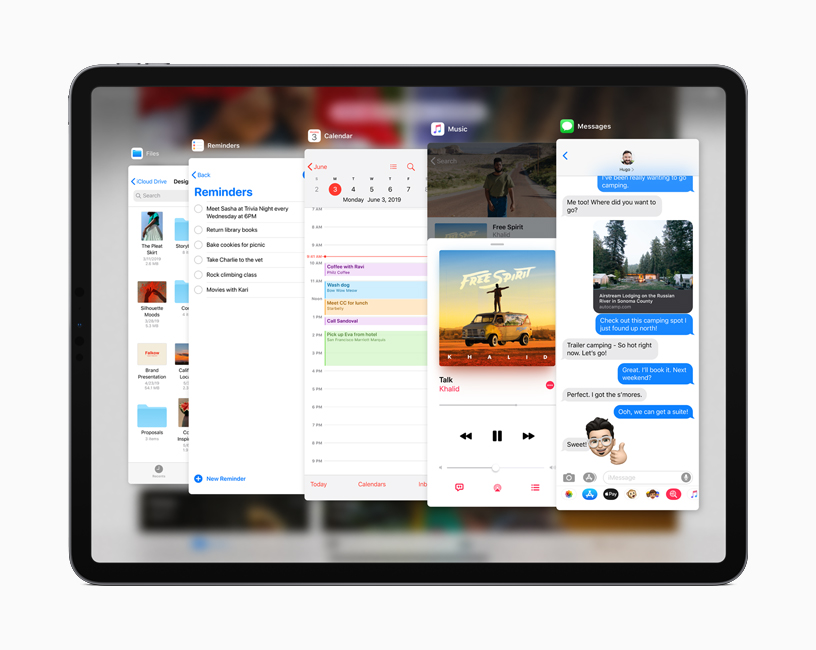 A 'Column View' gives you high-resolution previous for easy directory navigation with support for 'Quick Actions' such as mark up, rotate and creating a PDF. With iPadOS also comes local storage, zip, unzip and new keyboard shortcuts.
Do more with Apple Pencil
iPadOS integrates the Apple Pencil further into the experience. You can now send entire web-pages, documents or e-mails with a simple swipe from the corner of the screen. Furthermore, a redesigned tool palette gives you access to tools, colors, shapes and an object eraser.
A new pixel eraser also joins the lineup to remove any part of a stroke and a ruler to draw perfectly straight lines. With an industry-leading latency of as low as 9 milliseconds, using the Apple Pencil will feel even more natural.
Desktop-class browsing
With iPadOS, you automatically load desktop versions of websites on Safari. The websites are scaled appropriately and optimized for touch interaction. In combination, this makes web applications such as Google Docs or WordPress work great.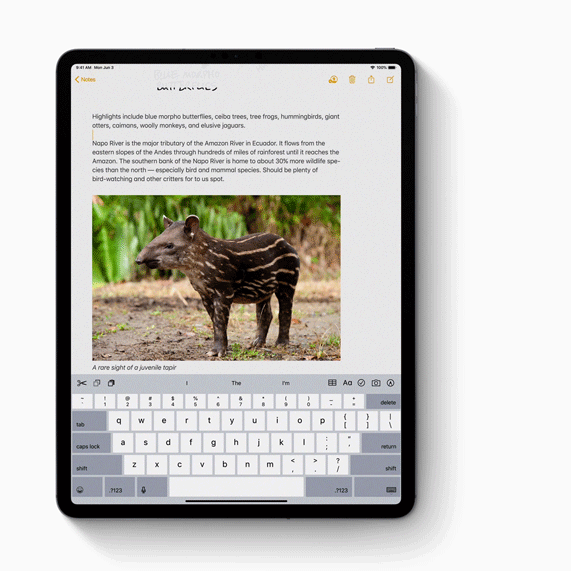 Furthermore, Safari also supports a download manager, enhancements to tab management and 30 new keyboard shortcuts. Even when text editing on iPadOS, there is new gesture support for quick cut, copy, paste and undo.
Availability
While the above are major changes, iPadOS still brings a lot of other improvements. A new dark mode, support for custom fonts and a new floating keyboard makes one-handed typing easier. Of course, it brings performance improvements across the board making app launches twice as fast.
Those who are part of Apple's 'Developer Program' can preview iPadOS starting today. An public beta program will also be available later this month. As for the final release, it will come this fall as a software update for iPad Air 2 or later, all iPad Pro models, iPad 5th generation and later and iPad mini 4 and later.