Virtual reality has been around for quite a while now but is still considered a new medium. We've only seen the emergence of headsets and development kits in the past couple of years. In the mix of all this virtual reality headgear, HTC and Valve dropped their Vive VR into the playpen. And of all the participants so far, the Vive offers the most promise in terms of delivery, quality of content and technology. Till date, Sony's PSVR is the only one to beat the HTC in terms of content. But that's OK, because the Vive was not built for only gaming.
Htc and Valve: Vive partners
HTC and Valve collaborated to create the most immersive experience by combining technologies and to show off Valve's SteamVR platform. Of all the headsets we've tested so far, the HTC Vive is by far the most immersive.
The headset looks bulky and military-like, but sat quite comfortably on my head. It also comes with motion sensors and controllers allowing users to create and play in their own VR room or space. In terms of display, the Vive has 2 OLED screens, each running at 1,800 x 1,200 pixels. There are a bunch of sensors on the front of the headset, alongside an integrated camera. The headset looks bulky, but the straps holding it together and to your head are smoother and of high quality, helping make the device feel a little lighter than it looks.
Cables. So many cables. The one downside of having such a powerful device on your head is that you can't expect it to be wireless… for now. That said, there are solutions like the MSI VR One back-pack PC to aid mobility and reduce the risk of tripping over the slew of wires bunched at your feet.
Easy control
The controllers that come with the Vive are superb and easy to use. They may seem awkward to get used to because of how they look, but once you do, it's a breeze. Just make sure you loop it to your wrist to avoid unnecessary tosses to the wild. They're mostly covered by a circular motion sensor or track pad on top, a trigger button that sits perfectly for your index fingers, and various other buttons around the grip. Remember to keep charging these babies so you don't run out of juice while immersed in the VR world.
From the feature video, you can see that the Vive is not just simple plug and play. It takes a while to set up, calibrate, negotiate around the wires and figure out the best space to create your VR Room. HTC recommends a 6×5 foot space to use the device ideally, but you can go bigger or even use it in one spot. Again this is good and bad, because more space means more cables strewn about, but creates a huge virtual area to actually move about in. Special thanks go to Asus for letting has borrow the ROG GX700 to test the Vive with.
By the time we set up the whole thing, it goes without saying that we were somewhat winded. But we put the headset on and connected it and the world just fell away. I was immediately transported to what could only be the moon because I was looking at Planet Earth in all its glory. This was the landing page of the Vive and from here you can open SteamVR or any of the other apps installed on the HTC platform.
Star Wars: Trials
We played with Star Wars: Trials on Tattooine, which I don't need to sell to anyone. It entails fidgeting around the Millennium Falcon (drool) and then lets you defend it with a lightsaber (more drool) from enemies that wish to take it down. Need I say more?
We also tried our hands at being artistic with Tilt Brush. Needless to say, we were totally devoid of any talent. I made some weird jalebi (Indian spiral-shaped dessert) sculpture while my pyromaniac co-player painted the room with fire (he clearly has issues). While we couldn't find anyone with talent in the vicinity, we've seen the potential of this app and some of the content created using it is just marvelous.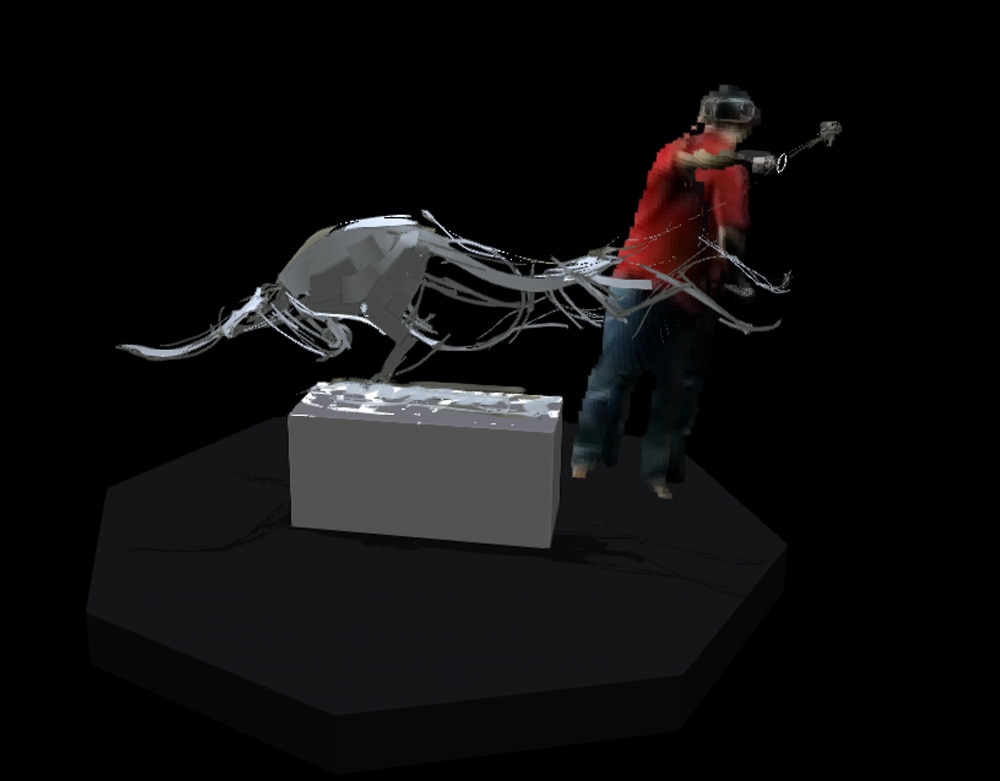 Zombie nightmares on Vive
Next up was the Brookhaven Experiment demo. A zombie survival horror VR experience, it is downright terrifying. Two grown men in an otherwise empty room voiced screams that a little girl would find hard to match. The game's objective is to survive wave after wave with a gun in one hand and a flashlight in the other. Each level gained adds a bonus to your weapon or your flashlight to increase damage and such. Although it was only a demo, we couldn't get enough of it.
There are a bunch of apps that can be demoed on the SteamVR platform and even more coming out. Before we knew it, hours had passed. Sure, we came out with aching necks and sweaty faces, but we had the time of our lives. We hooked up Brookhaven Experiment for other members of the Gulf News staff to enjoy. See their reactions below.
All in all, the HTC Vive is the most powerful headset in the market right now. It also provides the most immersive experience of all the headsets we've tested so far. But at a retail price of $800 (Dh3,000) it doesn't come cheap, and this is without spending for a PC or laptop that can handle that kind of power. Content wise, it still has miles to go before it can match up to the Rift's ever-evolving catalog and PSVRs already extensive launch title list. The Vive might have all the processing power in the world, but it really needs some heavy duty content to back that power up.
I'll be back soon. Gonna go hit some zombies with a flashlight.
PROS
CONS
– Incredibly immersive and detailed

– Amazing head-tracking capabilities

– Zombies

– Excellent motion controllers

– Valve partnership is good

– Doughnut tossing

– So many cables

– Valve partnership could be better

– Not easy to set up

– Needs a heavy duty PC or laptop to work best

– Gets uncomfortable after long periods

– Pricey