Earlier this year, Apple had said that it was shifting its Mac lineup to its own silicon. With today's Mac event, we learnt a lot about what the new SoC will bring. Not just that, Apple also introduced a new MacBook Air, 13-inch MacBook Pro and Mac Mini equipped with the new M1 chipset.
M1 chipset
The M1 chipset is optimised for low power systems, where size and power efficiency take precedence. Unlike processing units in the past, the M1 chipset is designed as a single SoC for simple data sharing. Moreover, its unified memory architecture means good performance and power efficiency all across the board.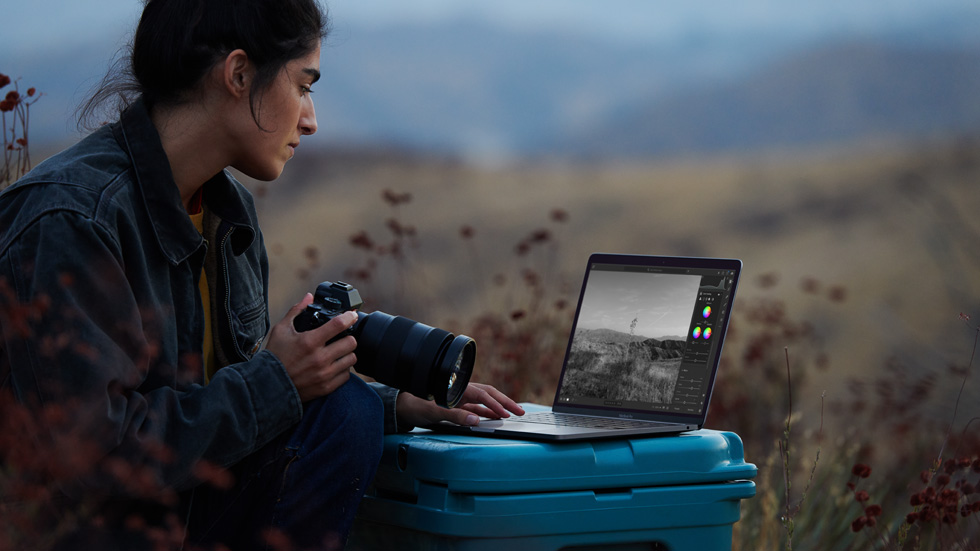 Based on a 5nm manufacturing processing, the M1 chipset features the world's fastest CPU core. Four of the cores on the chip are high performance, whereas the other four are high efficiency ones. In terms of raw CPU performance, Apple claims the 8-core CPU delivers the highest performance per watt. But according to the company, the M1 chipset also excels when it comes to graphics performance. Inside, you find an integrated 8-core GPU. This solution delivers the world's fastest integrated graphics on a machine.
MacBook Air
With the new MacBook Air, Apple has redefined what a thin and light notebook can do. The new M1 chipset gives it a 3.5x increase in performance with 5x faster graphics. This means you can play immersive titles at high frame rates or edit multiple 4K ProRes videos without dropping a frame. Apple claims the machine is 3x faster than a Windows equivalent and faster than 98 per-cent of the Windows laptops sold last year.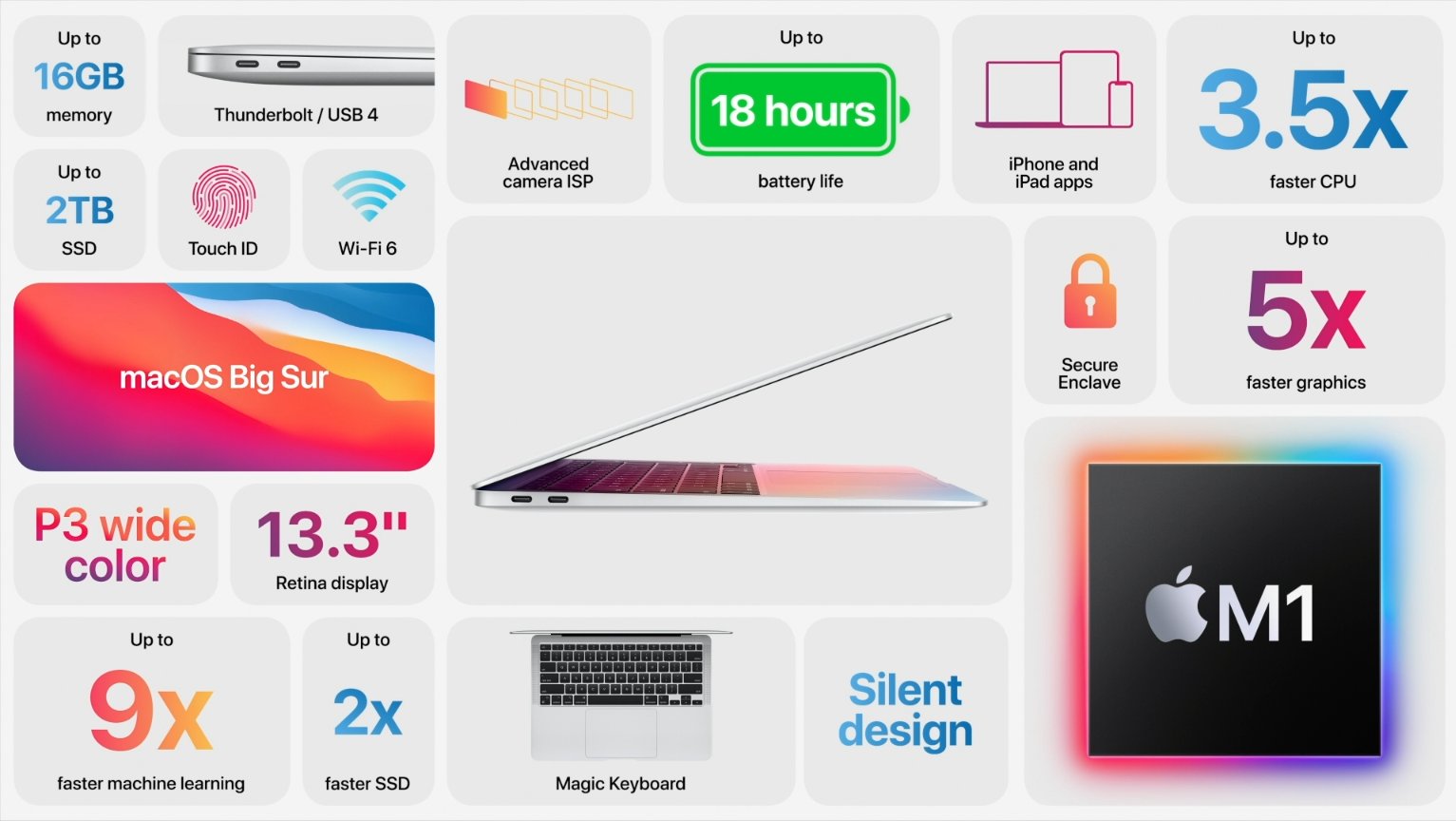 Given the new design of the machine's SoC, the MacBook Air is able to deliver these improvements in a fan-less design. This means it remains completely silent regardless of workload. As far as battery life is concerned, you will be able to to get up 15 hours of wireless web browsing and up to 18 hours of video playback.
13-inch MacBook Pro
Once again, with Apple's M1 chipset stealing the show here, you get similar performance boosts. Paired with the MacBook Pro's active cooling system, you get system wide performance increases. Users can play back full-quality 8K ProRes video in DaVinci Resolve without dropping a single frame or compile 4x more code on a single charge.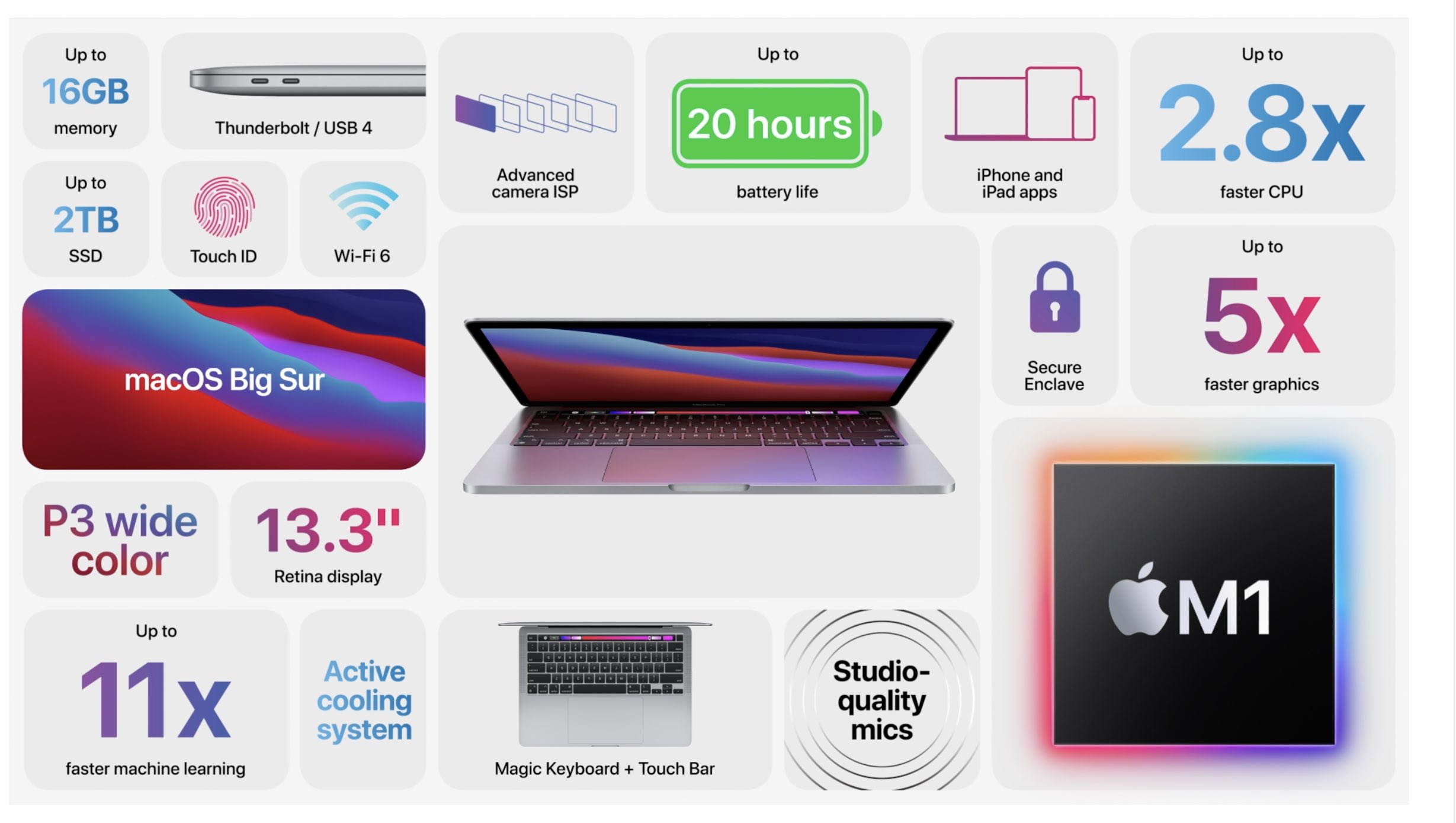 Other hardware features on the 13-inch MacBook Pro include studio-quality microphones and Apple's latest camera ISP in the M1 chipset for better camera performance. The latter is also a feature found on the MacBook Air. Despite the performance increments on the 13-inch MacBook Pro, you still get Apple's iconic hardware, which includes its Retina display, Magic Keyboard and compact design. But unfortunately, you only get two Thunderbolt / USB 4 ports instead of four Thunderbolt 3 ports you found on previous 13-inch MacBook devices.
Mac Mini
Last but not least, Apple introduced a new Mac Mini to its lineup. Again, thanks to the new M1 chipset, it brings 3x faster performance and a massive 6x improvement in graphics performance. You can render complex timelines, compile code and play graphics-intensive titles with ease on the device, with it staying incredibly compact.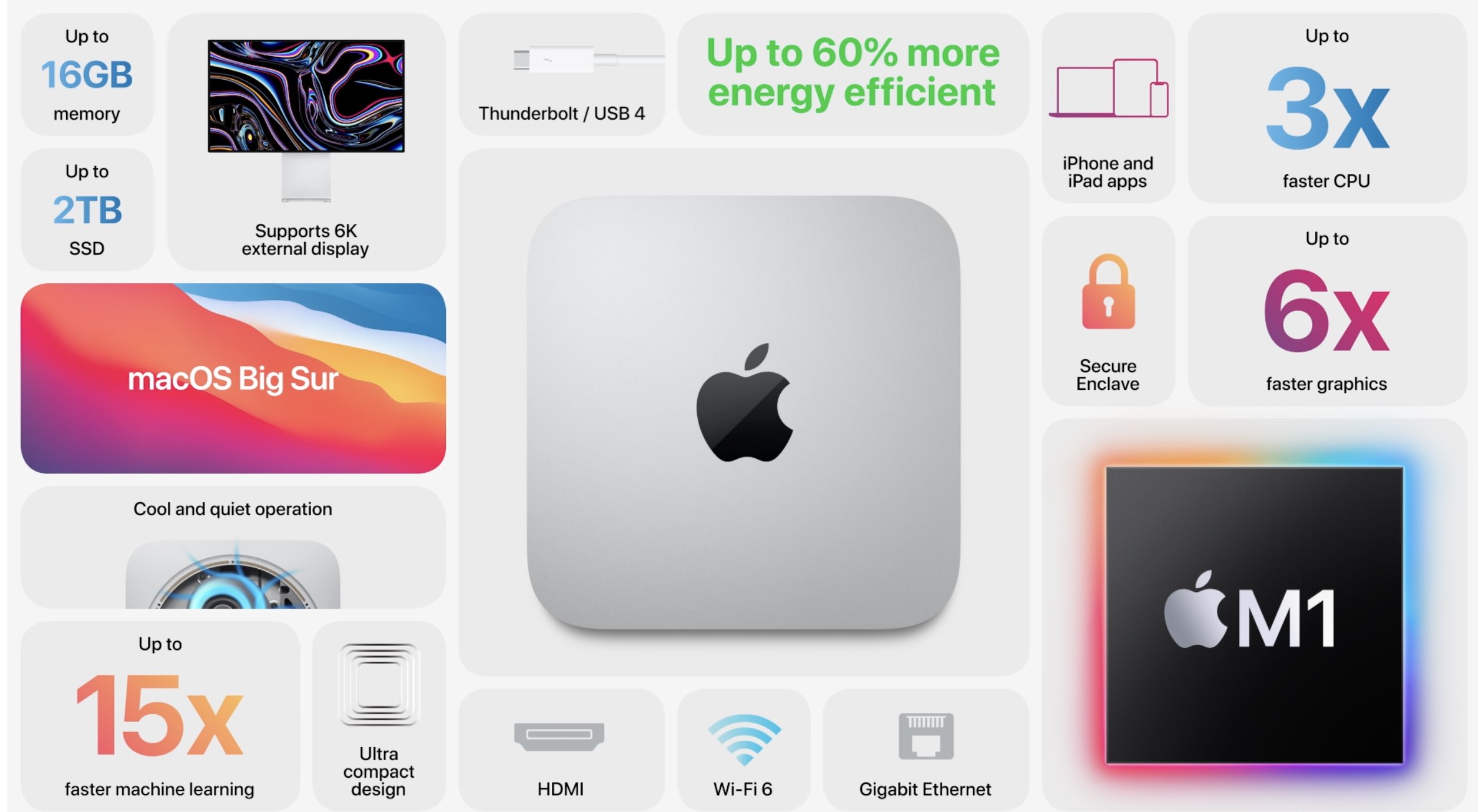 It also brings an advanced thermal design to remain cool yet sustain performance. With the Mac Mini, you can power up to two displays and connect to WiFi 6 for faster wireless performance.
Pricing and availability
You can pre-order the MacBook Air, 13-inch MacBook Pro and Mac Mini starting today. For their base variants, they are priced at Dh4,199, Dh5,399 and Dh2,999 respectively. Pre-orders will start shipping on November 17. For current Mac users, Apple announced that its new operating system Big Sur will be rolling out starting November 12.